Patricia Oden My journey to becoming a fulltime quiltmaker has taken a circuitous path-----and I'm not there yet. It just becomes more fun as I can devote more time and become more skilled at the process.

I've always been a stitcher, following in the footsteps of a grandmother who paved the way. But my career was spent in the classroom, teaching elementary school and later geography at the college level, so time devoted to needlework was limited to making children's clothes and some needlepoint.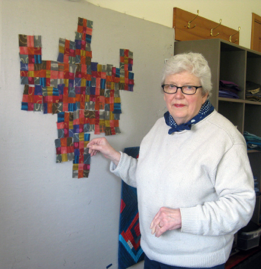 Around 2000, closing in on retirement and still dabbling at sewing---some traditional quiltmaking---I became aware of non-traditional quilts. They were so appealing, different, exciting, and artistic. It was a WOW moment----since then never looking back. I've taken several courses from Nancy Crow, continue to learn from and am inspired by several contemporary quilt artists, and still study and learn from the Masters (both past and present). Among my favorites are Paul Klee, VanGogh, and Georgia O'Keefe. I also draw from childrens' books' illustrations.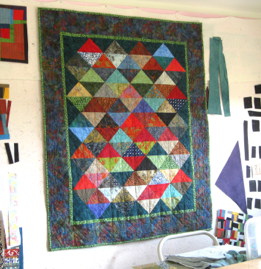 I work mostly in abstract designs, love bold colors, geometric shapes and love to dye my own fabrics.

This quiltmaking path I'm on is exhilarating, at times anxiety –ridden, stimulating, but mostly great fun.